Multifunction Power Tools/ Pole Tools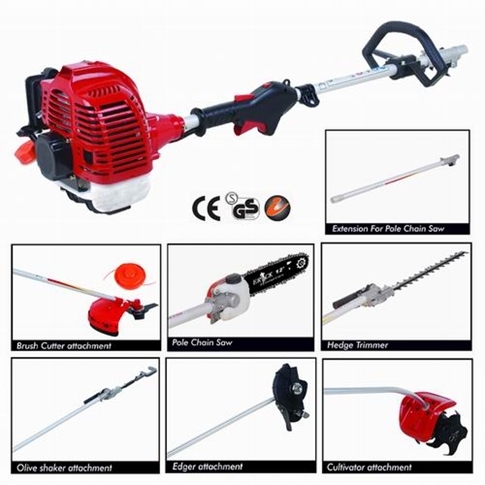 Click any image below to see more detailed information and product specifications for these multifunction power tools.
To download product information sheets and specifications, visit our Downloads page.
Note that attachments, spare parts and service support for all of these products are available from GardenWiz Tools here in New Zealand.
Our prices are VERY competitive! Enquire NOW!!
| | | | |
| --- | --- | --- | --- |
| | | | |
| One Tool to Rule Them All - and in the Garden, find them! The powerful GardenWiz MT-003 Multifunctional Tool can do an amazing number of jobs | The GardenWiz MT-002 is a multi-tool with a myriad of task capabilities and a great choice of attachments and extensions. The handy back-pack takes the weight of the motor off your hands while you get to work! | The GardenWiz LRCS001 Brush Cutter has a straight shaft with a 1.7m reach and comes with a variety of engine and pole attachment options - including a pole saw extension - to suit most needs | The MT-001 is a terrific and highly affordable multifunction pole tool that gets the job done! |
| | | | |
| The GardenWiz WP-415 water pump application from the 415-series tools is yet another handy option... | The GardenWiz BL-415 blower will blast away the leaves, grass cuttings, sawdust or debris to clean up after a job well done! | The GardenWiz SW-415 power sweeper is from the dependable 415 series multi-tool range | The GardenWiz GT-415 cultivator is another application-specific tool from the 415-series |